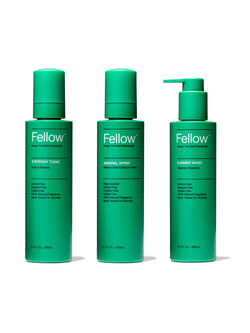 This is the perfect set for keeping your hair fresh, styled, and cleansed in those hot summer months.
Fellow Everyday Tonic is a skincare product containing aloe and witch hazel that cleanses and purifies. Great for use on hair between showers to remove excess styling product without stripping hair

Fellow Mineral Spray is the best way to get surf hair without going to the beach. A blend of sea salt and mineral-rich algae gives hair a fresh-from-the-waves look. No sticky residue or straw-like mess. Good for all hair types in need of a lift.
Fellow Summer Wash gently cleans hair because healthy hair is the easiest to style. No harsh detergents.