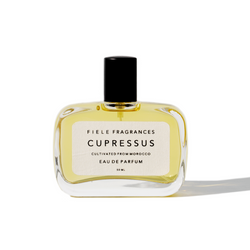 Fiele Fragrances
Fiele Fragrances - Cupressus
Prized by the world's ancient civilizations, cupressus sempervirens is among the oldest enduring species on our planet. Essences from the cypress tree's resinous leaf blend with fresh sage, crisp fir needles, and warm cedarwood to create a purifying scent that promotes focus and determination.  

Notes: Cypress Leaf, Clary Sage, Lemon, Fir Balsam, Rosemary, Cedarwood, Patchouli, Lavender, Labdanum, Cinnamon, Vetiver, Lavender Absolute, Petitgrain, Oakmoss Absolute, Musk

Blended, compounded, chilled, filtered and packaged by hand in Los Angeles, California. Some cloudiness or sediment may occur due to the high percentage of raw, natural extracts. 
Cruelty-free & Vegan. No animal testing.
50 ml / 1.7 fl oz
*Fine Fragrances are FINAL SALE and not eligible for return*