Careers
Join Fellow Barber
Fellow Barber provides an inspiring work environment and a clear path for career growth. Join the team. Love your job. The End.
View Open Positions
We're Hiring
"Clients do not come first. Employees come first. If you take care of your employees, they will take care of the clients." -Richard Branson
Fellow Barber provides in-house training and continuing education opportunities. We offer training and classes from outside educators and product knowledge training from our brand partners. Our Customer Care and Product Sales staff appreciate regular hours, flexible shift scheduling and paid attendance for product training events.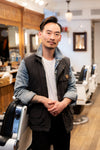 Experienced Barbers Enjoy Ongoing Success
We offer ample opportunities to level-up and increase commission rates at every stage.
Full-Time employees enjoy health benefits, 401K management, transit benefits and more.
Our marketing team works hard promoting our barbers. We put butts in your chair.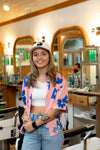 Newly Licensed Barbers Find a Clear Career Path
We offer a free 10 week Apprenticeship Program, led by our in-house team of educators.
Learn the skills they don't teach you in barber school and become a Junior Barber.
Get the reps, and confidence necessary to level up to Fellow Barber in 90 days.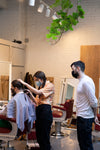 Barbering is a Fulfilling Career Change
Less screen time. Barbering creates healthy interaction and impactful relationships with clients.
Flex your creativity. Learn a skill that empowers you to create something amazing with your hands.
Our top barbers earn six figures. Barbering is a lucrative career with a flexible schedule.
Make The Change
We offer opportunities to Build Careers certain to be nothing like your past *jobs*.
Why work a job when you can build your career? We offer many opportunities, perks, benefits and structure that you won't find at other barbershops. Have you ever heard of a barbershop with an HR department? Welcome to Fellow Barber.
Barbers are full-time or part-time with options for health insurance, 401K and more. No chair rental!
Inspiring environments to work in. Each shop is beautifully custom-outfitted with vintage Belmont chairs.
The price (and quality) of our services is higher, so you earn more money for every service given. Everybody wins.
Fellow products were crafted specifically with barbers in mind. Our retail assortment is carefully curated.
With 11 locations across NYC, LA and SF, there are opportunities to work in different shops or cities!
Enjoy continuing education opportunities from within and from special guests like Matty Conrad and Mark Bustos!

A Culture Forged By Strong Core Values
At Fellow Barber, investing in our team is our top priority. We set you up for success at every stage of your career. We provide the tools you need to maintain and elevate the quality of your work, to build skills that help you grow, to continuously hone your craft, and to build the confidence you need to be the very best. We do all of this for you in an inspiring, supportive environment filled with diverse, creative craftspeople.
People
Style
Skill
Quality
Craftsmanship
We've cleared the way and constructed a well-defined, easily navigable Path to Success. With plenty of support and empowerment provided, your enlightened journey awaits.
Employee Testimonials: Don't Just Take Our Word For It - Take Theirs
Alyssa B.
I started at Fellow as a Junior Barber. I learned so much from our team of in-house educators that I didn't learn at school. Many doors have opened for me since. I've worked trade shows, large scale events and have been published on popular men's lifestyle websites. Fellow is such a great company to work for and I'm so grateful they gave me my start.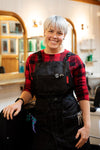 Eliran M.
Working with Fellow Barber has been an invaluable experience. The staff is helpful and friendly to one another and each location radiates a unique vibe.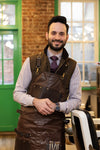 Noemi C.
I'm really proud to work for Fellow Barber because I feel respected and supported. Never judged. That's only happening because of strong shop policies of no harassment. For any new female barbers, I suggest coming to Fellow Barber.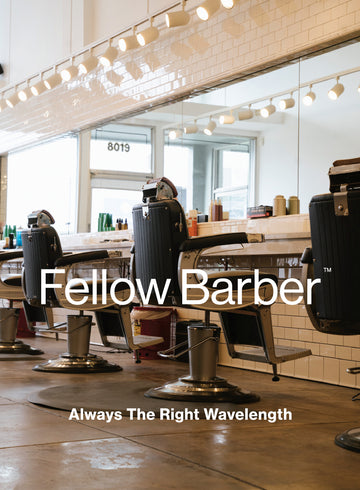 The Future Is Fellow
For more information, inspiring imagery and good vibes only, flip through our New Candidate Handbook.
download now
Open Positions
Join the team. Love Your Job. The end. It's that simple.
Are you ready to leave your current shop? Are you a newly licensed barber looking for a shop to call home? Are you a customer experience focused sales person looking for an inspiring environment? Take the next step and apply for an open position.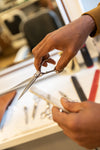 Our recruitment team will reach out to you to set up an interview. 
Yes - Our team will let you know if the position/location you inquired about is no longer available.
Yes - We have apprenticeship opportunities available for barbers who are just beginning their careers. Whether you're just graduating, or about to take your license exam, Fellow Barber offers FREE Apprenticeship Programs every 8-10 weeks. Email jobs@fellowbarber.com for more information.
Yes - Fellow Barber offers Apprenticeship programs & Junior Barber programs to help bridge the gap between school & your new career! Our free-of-cost opportunities include an intensive 8-week bootcamp designed to get you ready to cut on our floor. Over these 8 weeks (1 to 2 classes per week) you will find a mix of demonstration and hands-on learning techniques. Classes are taught by our highest level of talent at Fellow Barber. After the training as an apprentice is completed, you will graduate into our Junior Barber program. After 90 days as a Junior Barber, you will have the opportunity to become a Fellow Barber. 
For the interview process, Fellow Barber wants a chance to see how you work in a busy shop environment. If we believe you are a good candidate, we will invite you to come in for a test cut or trial day at one of our locations. 
Yes, you should still reach out. While we do require all of our barbers to be licensed in the state they wish to work in, and we do not issue licenses, we do offer opportunities to help you grow your career & gain the skill needed to pass the license exam.
No, we do not rent out our chairs. Employment with Fellow Barber is full-time or part-time. Our barbers are commission based with opportunities for health benefits (including vision & dental), 401k options, and commuter benefits. Barbers also receive commission for all products sold.